These shows offer exciting live theatre, curricular connections, and artistic excellence, all in one package. Toby's Theatrical Arts Productions (TAP) also provide a Common Core specific study guide for each student with pre and post lessons and extension activities.
STAY TUNED FOR 2020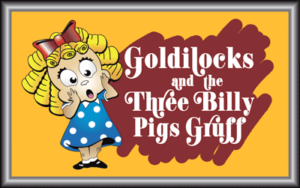 March 2019 – May 2019
*Recommended for Preschool, Lower Elementary, and Upper Elementary
An original Theatrical Arts Production that fuses the stories of Goldilocks & The Three Bears, The Three Little Pigs, and The Three Billy Goats Gruff. The Storyteller sets the scene and weaves into the three tales as different characters. She challenges the villains: Goldilocks, Big Bad Wolf, and The Troll to make good choices. If they don't, they must take a chain and be bound to their bad choices. Some of them rise to the occasion; some don't, but they learn that they have the power to be kind and respectful, and that second chances are possible. This is one of our favorite shows to offer with fun costuming, some silly casting choices, amazing original music, and smart writing. Teachers beg for us to bring this back each year!
This show fits in nicely with lessons in: How Things Change, Caring About Myself & Others, Rhythm & Rhyme, Community, Relationships, and has Anti-Bullying themes. 
Book by Carol Graham Lehan
Music & Lyrics by Christopher Youstra
Due to the nature of theatrical bookings all shows, dates and times are subject to change. Youth performances are show only and do not include buffet meals.
---
PRICE
Tickets are $10 per student for groups of 20 or more. One chaperone seat free of charge for every 10 student seats.
For groups under 20 people, tickets are $13 per person.
Reduced price tickets available with certain qualifications and with School Subscriptions. Please inquire.
SHOW TIMES
Shows are at 10 AM with 12 Noon performances on selected afternoons. If you wish to book the entire house (230 seat minimum), with enough advanced notice, alternate show times can be considered.
Shows are performed at Toby's Dinner Theatre at 5900 Symphony Woods Road Columbia, MD 21044, located immediately off Route 29 (provides easy access for all schools in the Baltimore-Washington Corridor).
POLICIES AND PROCEDURES
Once a reservation request is made, a contract will be sent out within the week. A signed contract is due back within 2 weeks with a deposit of $50 to hold your reservation. This deposit will guarantee your seats. Balance is due in full three weeks prior to your show date. Any negligence in payment may result in a cancellation of your reservation, and a forfeit of your $50 deposit.
Performances are approximately one hour in length and are followed by a brief post-show discussion led by the actors in the show.
Doors open for seating one half hour prior to the start of the show.
Recording devices and cameras are prohibited during the performance due to copyright laws.
Please bring enough chaperones to assure orderly behavior of your group.
Notify us when you order if members of your group have special needs. We are happy to accommodate.
Due to the nature of theatrical bookings, all programs and times are subject to change.
Please inquire about our inclement weather policy.
No food or drinks allowed in the theatre during the performance.
If you are RUNNING LATE, it's important to contact us immediately. We will try to accommodate late arrival up to 10 minutes past the show's start time, thereafter, the stage manager must make a decision to begin the show without you.
---
TO MAKE RESERVATIONS
Call: 240-456-0247
or Fax: 240-456-0248
By mail: Toby's Youth Theatre, P.O. Box 1123, Columbia, MD 21044
*Include the name of your school, the show you wish to see, group leader/contact information, how many students, how many adults, and a first and second choice date and time.*